Sanford Health Supports Veterans
At Sanford Health, we have the utmost respect for our military members and want to be there for our heroes. We are dedicated to providing them with not only exceptional care but with the employment opportunities they deserve to support their families.
We recently announced a new industry-leading benefit for members of the Guard and Reserve. To show our support and ease financial burdens for our mobilized military members and their families, Sanford invests in employed service men and women by providing differential pay to supplement employees' compensation during qualified military deployments for up to 12 months.
It is our honor to be the provider and employer of choice for our nation's veterans.
Awards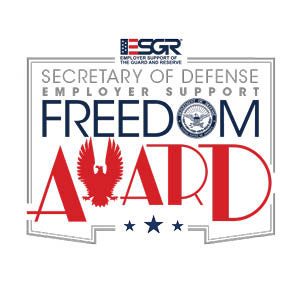 ESGR Freedom Award
ESGR's awards program culminates with the Secretary of Defense Employer Support Freedom Award, the highest recognition given by the U.S. Government to employers for their outstanding support of employees serving in the Guard and Reserve.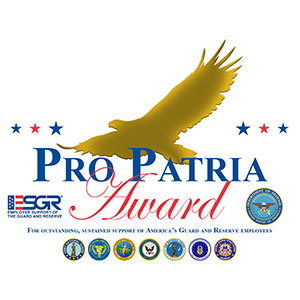 ESGR Pro Patria Awardee
ESGR's Pro Patria recipients have demonstrated the greatest support to Guard and Reserve employees through their leadership and practices, including adopting personnel policies that make it easier for employees to participate in the National Guard and Reserve. This is the highest level award that may be bestowed by an ESGR State Committee.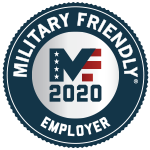 Military Friendly Employer
The Military Friendly® Company survey investigates and identifies the organizations whose commitment to serving the military and veteran community is comprehensive in scope and meaningful in terms of actual outcomes and impact. From hiring and career advancement to customer service and charitable investment, Military Friendly® Companies lead the way.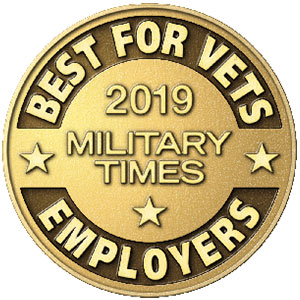 Best For Vets Employer
The annual Military Times Best for Vets rankings evaluate companies' culture, veteran recruiting, veteran policies, and accommodations for members of the National Guard and reserves. The award is earned through determined efforts to recruit and support service members, veterans and military families.
Video Spotlights
Veterans Affairs officials visit Sanford Veterans Club
Veterans at Sanford Health get recognized for their service whether they're working or getting health care. Special touches like veterans lanyards, name tags, pins and car decals impressed representatives from the U.S. Department of Veterans Affairs. They toured Sanford USD Medical Center during a visit to Sioux Falls, South Dakota.
Featured Veterans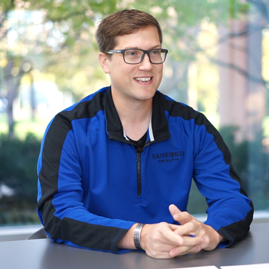 Jeff Pratt
Supply Chain Category Management Analyst
"A lot of places might talk like they support veterans, but Sanford really puts it into practice."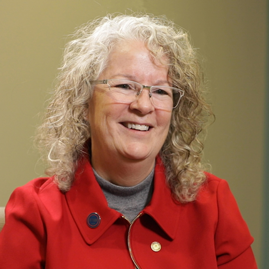 Tracy Kaeslin
Nursing Inpatient Manager
"I feel very valued at Sanford as a Veteran for my experience."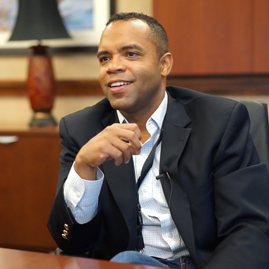 Jose Vasquez
World Clinic Director
"My supervisor saw in me what he needed and what the organization needed."
Jobs by Location
Sanford Health has hospitals, clinics and senior living facilities spread out across more than 250,000 square miles, from small towns to large cities. Click on the map below to find a job opportunity near you. The numbers on the map represent the open positions in that location.
To view a complete listing of Sanford Health facilities, visit sanfordhealth.org/locations